Kelvin Hughes have produced a new series of networked radars.  The X band consists of a 12 Kw magnetron up mast transceiver networked to a flat panel PC via a network switch.
Electromed Technicians have now received full training from Kelvin Hughes on the installation and maintenance on this new radar type.
Increased gain and a narrow beam width of the antenna offers greater range and bearing resolution for improved performance and target separation. The compact lightweight design is easy to install with a single waterproof connector and includes an integral health monitor.
This commercial marine X-Band series is ideal for vessles requiring IMO type approved radar and also smaller boats such as workboats and fishing vessels requiring a cost effective, simple to install, lightweight and high performance navigation radar.

Key Features
X-Band
Improved performance and target separation
IMO type approval (IEC 62388, MSC192/79)
Blanking sectors
Low noise transceiver
Upmast – Integrated transceiver and turning mechanism
Easy to install cable and antenna
The S band consists of a Sharpeye solid state radar transceiver that does not use a magnetron.  SharpEye™ transmits a low power patented pulse sequence, which enables short, medium and long range radar returns to be detected simultaneously, allowing the radar operator to maintain situational awareness regardless of the range scale setting of the radar display and other users of the radar can select their own radar display range scale. The detection performance of SharpEye™ with a low peak transmission power of less than 200W is equivalent to a 30kW magnetron radar.

Key Features
No magnetron – minimal routine maintenance requirements
High reliability – solid state electronics
Upmast transceiver solution – no waveguide – easy to retrofit – reduced signal loss
Clutter suppression – pulse compression
Continuous health monitor
NAVIGATION RADAR DISPLAY
The latest navigation radar innovation from Kelvin Hughes is the new integrated radar display which has taken all the market leading software functionality from the previous MantaDigital™ radar series, added a few improvements and reborn in a brand new package.
The integrated radar display is designed to complete the X-Band and SharpEye™ S-Band radar transceivers series as part of a fully redundant networked system, removing the need for distribution and other interfaces.
The integrated radar display provides radar, chart radar and Electronic Chart System (ECS) in a single networkable system with a host of features supporting navigation, route planning and training.
The radar display is type approved (MSC192/79 / IEC 62388 ED2) and provides enhanced collision avoidance and situational awareness features such as dual PPI (Plan Position Indicator), collision warning, spy scope and Enhanced Target Detection (ETD) mode.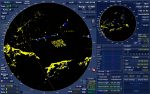 Key Features:
Ease of operation
22" (55cm) and 26" (66cm) display option
LED widescreen with anti-reflective glass
Multiple easy mounting options (Console / desktop / deckhead / deck stand)
Simple interconnection (1 x Ethernet & 3 x USB)
Networked system
5th Generation 64bit operating system
Dual redundant network
Serial radar transceiver distribution via network
Remote diagnostics
Solid state hard drive (fast recovery configuration files)
Voyage Data Recorder (VDR) Interface

Ethernet connection to Kelvin Hughes X-VDR
DVI connection for 3rd party VDR