Description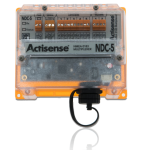 NMEA-0183 Multiplexer. The five NMEA 0183 inputs can be routed to any of the two NMEA 0183 outputs providing a highly customisable network. The bi-directional serial port and Ethernet port also allow for simple configuration and diagnostics using Actisense software.
The configuration tool is accessible via any popular web browser (using the Ethernet port) so there are no PC operating system compatibility issues to contend with. Using the web based configuration tool will allow the user to finely tune the exact data available on each output. The default setup is for all data to go to all outputs.
Industry leading isolation is provided on all inputs and outputs as standard, so that connected devices safely avoid hazardous ground loops, the number one cause of product failure in NMEA 0183 networks. This makes the NDC-5 robust enough to handle any NMEA 0183 installation.
Pluggable connectors allow new devices to be easily installed without the need to remove the NDC-5 from its mounted location. A professional DIN rail mounting mechanism keeps the NDC-5 secure in high vibration environments. Helpful LEDs indicate power, data in, and status conditions to aid diagnostics.