Coltraco Ultrasonics has chosen Electromed to be the exclusive distributer of its award winning technology. We are able to supply instruments in both land and sea based industries. Coltraco are world leaders at innovation and production of Ultra Sonic measurement instrumentation.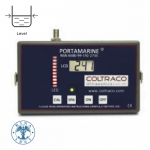 The Portamarine is an ultrasonic liquid level indicator. It can be used for offshore Fire Suppression Servicing, inspections and especially popular for use with onboard CO2 fire suppression.
Other products include Portascanner watertight integrity instruments, Portasteel steel thickness indicator. Portatank tank level indicator. Portamonitor bearing wear indicator.
For  more information please visit https://coltraco.com/