We have been busy in recent times installing ECDIS Equipment so that ships can comply with regulations for paperless navigation.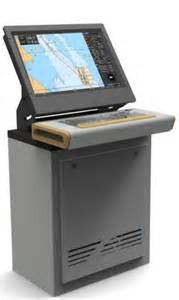 Electromed are now sales and service agents for Transas Marine.  We are heavily involved in the supply, installation and commissioning of Transas ECDIS.  This involves sometimes removing the old equipment, installing new ECDIS multiple stations, and interfacing with other bridge equipment.  Interfacing is an extensive part of the installation as the ECDIS has to be interfaced with the following equipment as a mandatory regulation.
1. Gyro compass,
2. GPS and Secondary GPS.
3. Ships Speed Log (speed through the water)
In addition to get the very most from the ECDIS is may also be interfaced with the following,
1. Navtex
2. Wind Instrument
3. Radars for radar overlay and displaying ARPA targets on the chart
4. Voyage Data Recorder for recording the navigation process as a video input.
5 BNWAS for restarting the count when tracker ball is moved etc
6. Satellite communications for getting chart updates.
7 Autopilot for navigating routes selected.
8. AIS for plotting AIS targets.
Get the most out of your system and have it fully integrated.